Guide to Kakadu National Park
Kakadu, Northern Territory 0822
Kakadu National Park is a sprawling nature reserve that boasts a collection of diverse and beautiful landscapes. Visitors can immerse themselves in a series of wetlands, rivers, and ancient sandstone escarpments in a region that's rich in both stunning views and a fascinating heritage.
Proudly displaying the natural beauty of Australia's Northern Territory, this 20 000 km² National Park is a great place for all who are looking to get in touch with nature. The park is divided into seven distinct eco-regions, from East Alligator to Nourlangie and Yellow Water, each region has its own unique features and natural attractions.
As well as more than 2,000 different plant species and hundreds of wildlife species, there is a massive amount of history and culture to soak up in the park. Centuries-old rock paintings adorn the soaring sandstone cliffs and sacred sites are scattered through the land.
The History of Kakadu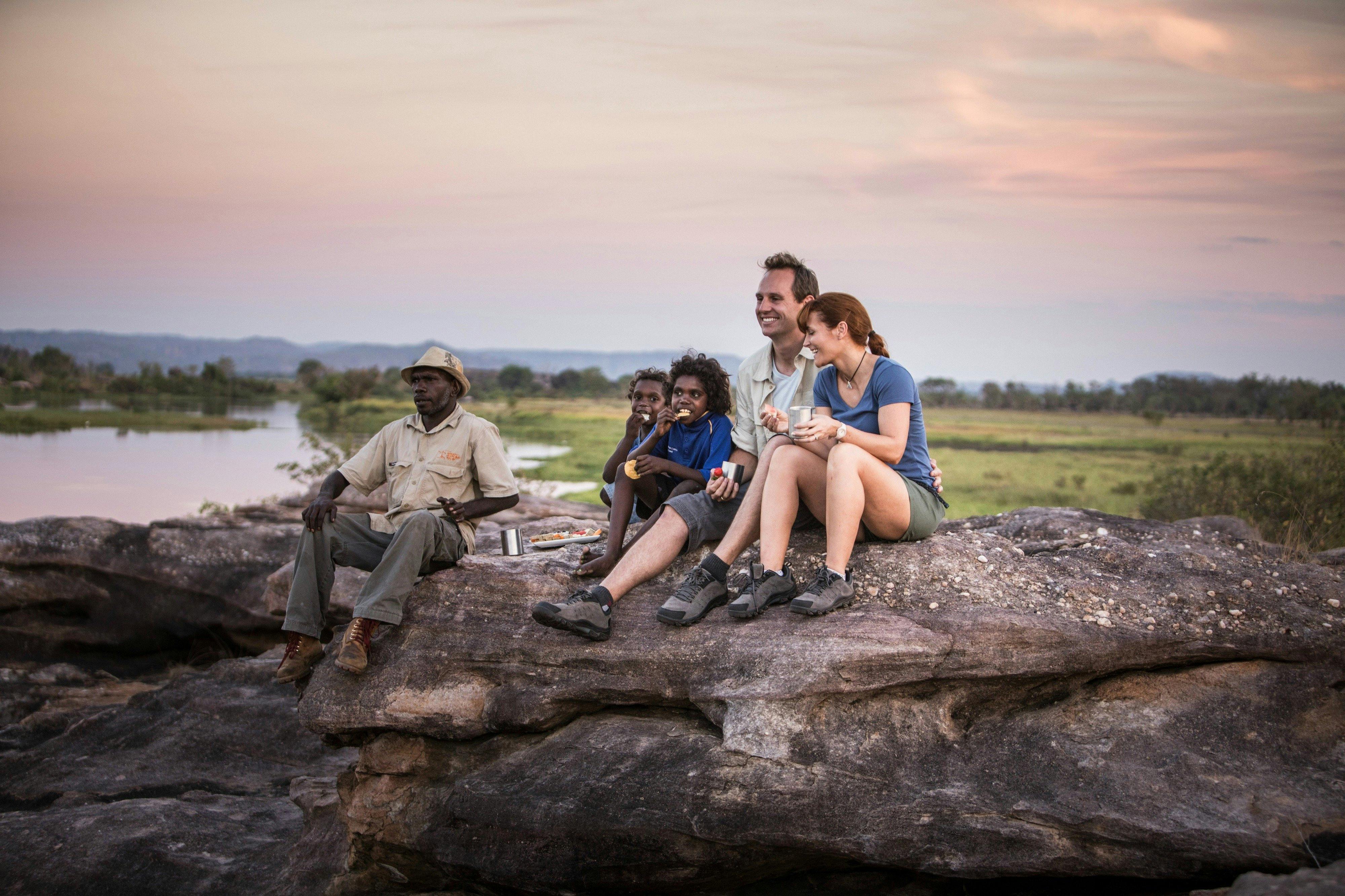 Credit: Tourism Northern Territory
Kakadu National Park was first established in April 1979. The establishment of the region into a National Park was first suggested in 1965 when a cultural shift was occurring across Australia to recognise traditional owners and their land interests. At the same time there was a push for areas to be named as National Parks in order to preserve them for conservation. For over a decade, discussions continued with Aboriginal communities from the area and traditional owners about the declaration. It was during this time that the name Kakadu was first suggested as recognition of Gaagudju, a local Aboriginal language.
In 1975, the park was listed under the National Parks and Wildlife Conservation Act 1975 and, more recently in 2013, a culturally rich splash of woodland called Koongarra was added to the park.
However, Kakadu's history extends back much further than 1965. The local Aboriginal people have been living on this land for over 65,000 years. They moved around the park's land in response to changing seasons and their art and sacred sites teach us much about how their society operated and the ways in which they migrated throughout the parklands. According to local Indigenous stories, Kakadu has existed since the Creation Time, or the Beginning, when their creation ancestors travelled across the landscape. The Rainbow Serpent carved out the landscape for all creatures, and Namarrgon started the violent lightning storms that brings rain to the region each summer.
The Culture of Kakadu National Park
Kakadu is home to the oldest living culture on Earth. In the south live the Mungguy people, while the Bininj people live in the north. Many of the local Indigenous people live in the townships within the park while other live in more remote areas. Caring and understanding the land is fundamental in Aboriginal culture, and no matter where they live, the traditional owners have deep understanding and connection to land.
Within the park there are approximately 19 clan groups. Clans generally consist of two or more family groups sharing ownership of certain areas of land, these clan boundaries are passed down generations through the father. The clans within Kakadu have a complex kinship system that determines how individuals relate to each other. This kinship system dictates the ways in which individuals communicate and identify people as mothers, fathers, uncles, cousins, potential marriage partners, and so on. Kinship governs day-to-day communication in Mungguy and Bininj culture.
Tradition, responsibilities and culture are incredibly important to the Aboriginal people residing in Kakadu. This land has been theirs for thousands of years and you should respect their culture when visiting. Be sure to listen to tour leaders, or follow signage, to ensure you are not entering sacred or ceremonial sites, burial grounds, or someone's home when in the park. Do not touch rock artwork you see and respect people's privacy.
Before European settlement 12 languages were spoken in the Kakadu area, today only three are regularly spoken. Gun-djeihmi and Kun-winjku are spoken at the northern end of Kakadu and are regarded as dialects because speakers can understand each other. Jawoyn however is a separate language only spoken in the southern parts of the park. Though the Mungguy and Bininj people are happy to share their culture with non-Aboriginals, and welcome them to Kakadu, many stories and sites are only for the initiated and secrets must be respected.
Cultural Centres in Kakadu
Cultural centres are a great place to learn more about Kakadu and its cultural heritage before setting of on your journey. There are two cultural centres in the park, each teaching visitors about different things.
Hit the Pools
Kakadu is renowned for its selection of pretty plunge pools that are perfect for cooling off in. The wet season brings an abundance of water that sees falls violently flowing and pools flooding over. As the dry season rolls in the pools and falls calm to become some of the best places to cool down in the days heat.
Rock Art Galleries
The rock art in Kakadu National Park is of significant international and cultural significance. With paintings up to 20,000 years old these artworks are some of the longest historical records of any group of people on Earth. Paintings are a form of cultural expression and for the Bininj/Mungguy the act of painting is more important than the painting itself, meaning in some areas you can see layers of paintings.
Paintings allowed people to express their stories, and some paintings could only be painted by people with the right knowledge. For example, only those who held magical knowledge could paint about sorcery. The paintings in Kakadu share a fascinating history of Aboriginal life and society over thousands of years.
Wildlife in Kakadu
Kakadu is rich in native Australian wildlife, including endemic and rare species. Across each region you will find a new set of wildlife around you.
Access to Kakadu National Park
Before booking your trip to Kakadu National Park it is important to do your research. Kakadu's traditional owners recognise six seasons within the park, however commonly the seasons are referred to as the wet season or the dry season.
Much of the park is not accessible during the wet season due to flooding, so be sure to check if the areas you want to visit are open during the time of year, you're planning to take your trip. Kakadu National Park is Aboriginal land and has been leased to the Director of National Park. Today it is managed by the traditional owners in partnership with Parks Australia. Additionally, visitors need a Kakadu Pass to enter the park, you may also require a permit to visit certain areas. Book ahead online to ensure you can visit the areas you want to.
Kakadu National Park is one of Australia's most culturally rich regions. You'll never forget your visit to this truly spectacular area. Soak in Indigenous culture and breathe in the fresh air of rural Australia. There's nothing like Kakadu National Park anywhere in the world, so don't miss your chance to visit!